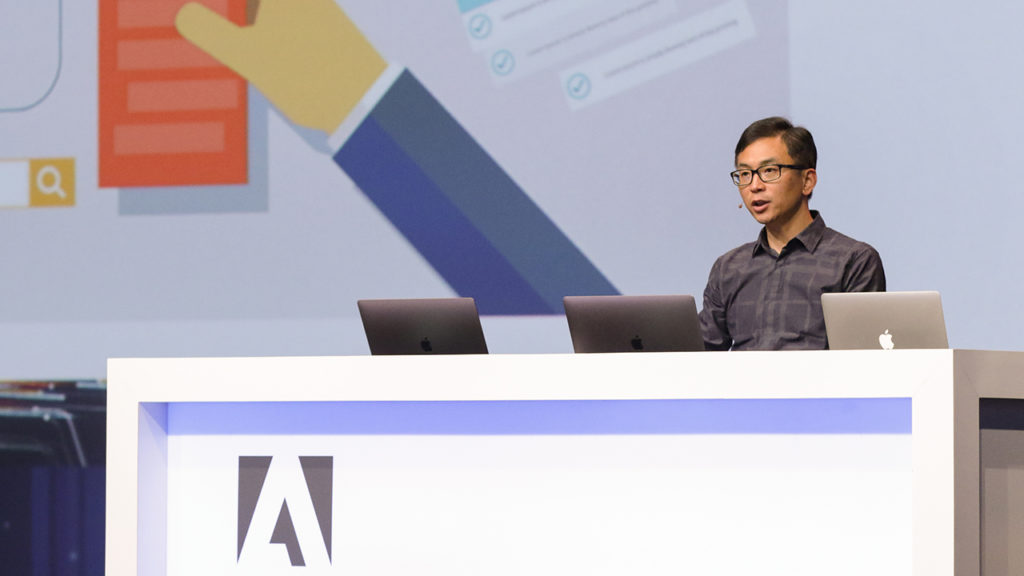 By Meredith Alexander Kunz, Adobe Research
Adobe Research now has a new patent "centenarian": Hailin Jin, senior principal scientist. Jin reached the milestone of 100 US patents issued in August. His wide breadth of work spans imaging, computer vision, video, font, 3D, and more. A fifteen-year company veteran, Jin also manages a team of inventors at Adobe Research.
"Hailin has had an amazing output, and he's remarkably creative and prolific in a broad range of areas," says Adobe Research's Jon Brandt, an Adobe fellow. "The scope of his patents shows his versality and impact."
Jin's patents have contributed to many products across Adobe's entire range of software. He is the second scientist from Adobe Research to have 100 patents under his belt, coming a few months after Zhe Lin, senior principal scientist.
"I really believe that innovation and invention are important parts of our work. I'm very glad I was able to accomplish this," says Jin.
Collaborative environment is key
He gives credit to his partners at Adobe for this milestone. "If you look at all the inventions, it's not just my work, it's a lot of other people's work, too. The environment at Adobe Research provides the key," Jin says. "I want to acknowledge all the work by my collaborators, colleagues, and interns."
Interns bring a fresh perspective, Jin says—one that helps push things forward. He recalls being among the first Adobe staffers to supervise interns after he joined the company in 2004.
Gavin Miller, VP and head of Adobe Research, puts it this way: "The winning combination of prolific inventors like Hailin collaborating with Adobe Research's many talented interns creates impact at scale. Working together, they introduce innovations into our products that help Adobe's customers do their work faster and better."
Favorite patents
Of all his patents over the years, Jin names two as his favorites. His very first Adobe patent stands out in his mind.
Before the days of the iPhone, people had to take photos one by one and use Photoshop to stitch them together. It was a very slow process to load and render many megapixels' worth of imagery and combine them. Jin's work changed that. "My first patent at Adobe was a fast algorithm to create panorama images more quickly," Jin says. Photographers were in his debt after the feature was introduced into Photoshop.
Another patent by Jin focused on what he calls a "font signature." Often in documents, it can be hard to transfer fonts from one system to another. "A font may look nice on your screen, but not good on someone else's," Jin points out. He invented a new process: "You embed a watermark of the font to capture the visual appearance. Then you can find similar fonts in other systems."
Other tech developed by Jin includes the After Effects feature for video called Warp Stabilizer. "Hailin contributed the computer vision, tracking, and inference that made this work in a commercial product—a huge feat," says Brandt.
Artificial intelligence leadership
Jin also has had a big impact on Adobe's push to advance artificial intelligence. In fact, Jin's contributions have influenced the day-to-day work of many at Adobe—and bolstered the way many of the company's products are powered by AI.

"He pioneered and evangelized a major internal research culture shift towards using deep learning. He recognized the need for this change early on, and established the first machine learning research cluster here," explains Brandt.
The new hardware infrastructure happened at a "watershed moment," Brandt adds, when the whole research world was just beginning to shift towards AI. "Hailin identified it before others did and put us in a position to be in front of that. That later became a reference system for Adobe Sensei," the company's large-scale AI effort.
Photo by Bay Area Event Photography